Leading producer of sensory books in Poland presents:
Queit Book sensory book for preschoolers 3+
For whom?
A sensory book designed for preschoolers aged 3 to 6!
Benefits
For children who learn precise manual activities, such as buttoning, interweaving and, among others, for learning the clock.
Product Overview
The book contains many interesting activities. A manipulation book that encourages brushing teeth thanks to a cute page with a hippy who will brush the teeth of your child using a toothbrush and toothpaste. Playing dentist? Why not! No visit to the doctor will be terrible anymore thanks to great fun.
The next page is: a mouse that will gladly wander between the holes in the heart, thanks to which the child learns to interweave.
Clock page - it's learning hours. Fun and education in one!
Every preschooler should learn how to dress and undress on his own, so the side with a shirt and buttons is a great way to learn this activity while having fun!
Finally, it is also worth playing puzzles that will develop creative and logical thinking.
✔ All mobile elements allow you to practice fine motor skills.
✔ Valuable a gift for every 3, 4 and 5 year old boy and girl.
✔ A sensory book created in accordance with the Montessori educational method.
Additional information
4-step guide to sensory books:
Step 1 - Get to know the sensory book better: TOP 5 facts
Step 2 - Complete guide to the benefits of Quiet Books
Step 3 - Find out is the sensory-book for you (QUIZ)
Step 4 - 7 reasons to choose TimoSimo
Properties
Dimensions: L 30cm x W 30cm
Number of pages: 5 (+ cover)
Material composition: cotton and felt.
Cleaning: gentle hand or machine wash 30 degrees without spinning
All materials used are of the highest quality and have the necessary certificates.
Handmade product - the colors of the elements may slightly differ from the one shown in the picture.
Book not suitable for children under 3 years of age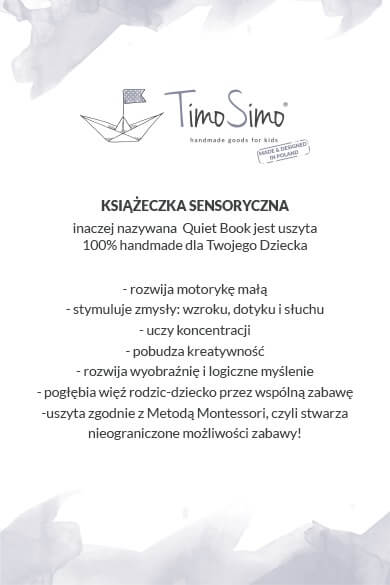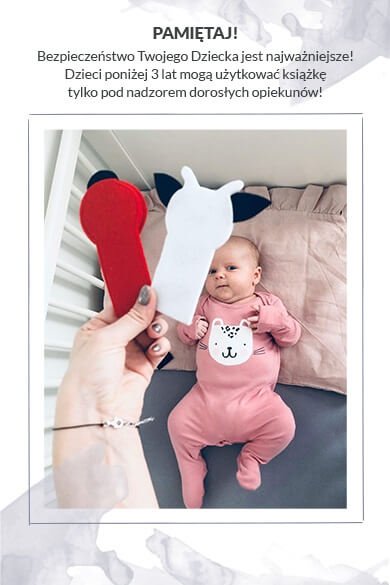 Write a review
Mam córkę 3 lata i 5 letniego Syna: i oboje chętnie bawią się wspólnie książeczką. Świetne, edukacyjne strony, ale tez przede wszystkim nauka współpracy i wspólna zabawa. Zdecydowanie na plus!
Ładnie uszyta książeczka, z pożytecznymi stronami do nauki i zabawy.  Mam 4 letnią córkę i chętnie korzysta z książeczki. Zachwycona jest przede wszystkim puzzlami i hipciem.
3 letni synek dzięki książeczce nauczył się zapinać i odpinać guziki.   Teraz zachwyca się hipciem i myszką - przeplatanką. Polecam do wartościowych zabaw dla dzieci w wieku przedszkolnym.
Córeczka chętnie bawi się książeczką, która jest solidnie i ładnie uszyta. Wspólnie uczymy się i bawimy. Wartościowy pomysł na prezent.
Synek chodzi do przedszkola Montessori więc taka książeczka to dla nas -obowiązkowe wyposażenie jego pokoiku. Uczy koncentracji i rozwija wyobraźnię. polecam
Customers who bought this product also purchased...