Leading producer of sensory books in Poland presents:
Queit Book sensory book for children 1+
For whom?
A sensory book dedicated to children from the first year of life to the age of 3.
Benefits
The book develops different skills in the child - each page provides creative tasks, exercises dexterity, logical thinking and develops the child's imagination.
Product description
Book 1+ has a task related to shapes and figures. The child has to adjust each element, which is fastened with Velcro.
Playing on the farm with animals is a puppet theater - all mobile elements. Finger puppets are a great opportunity to play creatively with animals.
And finally the child will put the teddy bear to sleep. They will hug and go for a nap with him.
Lots of possibilities and creative tasks!
✔ Hand-made manipulation book - handmade.
✔ Perfect gift for a year-old and a two-year-old child. Also works as a baptism gift.
✔ Perfect as a montessori aid.
✔ TimoSimo Bestseller
Additional information
Full video product presentation: watch on youtube
4-step guide to sensory books:
Step 1 - Get to know the sensory book better: TOP 5 facts
Step 2 - Complete guide to the benefits of Quiet Books
Step 3 - Find out is the sensory-book for you (QUIZ)
Step 4 - 7 reasons to choose TimoSimo
Properties
Dimensions: L 30cm x W 30cm
Number of pages: 4 (+ cover)
Material composition: cotton and felt
Cleaning: gentle hand wash or machine wash 30 degrees without spinning
All materials used are of the highest quality and have the necessary certificates.
Handmade product - the colors of the elements may slightly differ from that shown in the photo.
NOTE!
The product may be used by a child ONLY in the presence of a parent!
Remember, your child's safety is paramount!
This book is not suitable for children under the age of 1.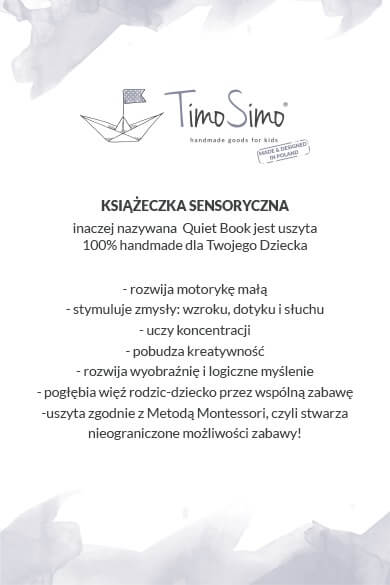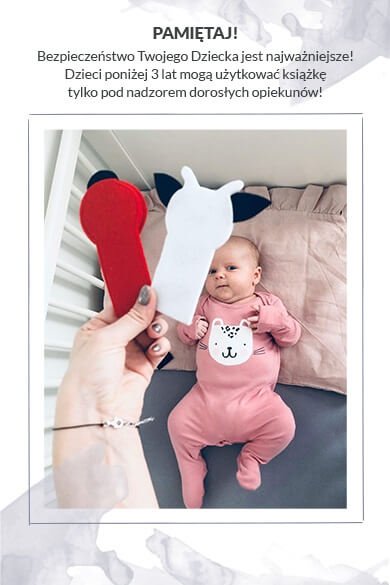 Write a review
Książeczka sensoryczna 1+ to świetna forma nauki przez zabawę! Akurat nasze dziecko uczęszcza do żłobka Montessori i ta książeczka uszyta jest w zgodzie z tą metodą. Dbałość o każdy detal szycia i wartościowa edukacyjna książka. Dla mnie produkt idealny dla dziecka w wieku 1-3 lata.
od czasu gdy jestem mamą dwa razy się zachwyciłam rzeczami dla mojego synka . I były to właśnie te książeczki.. . całe szczęście zamówiłam od razu dwie
Mój synek uwielbia bawić się tą książeczką. Dostał ją na roczek od Chrzestnych i cały czas ćwiczy rączkę dzięki elementom na rzep i uwielbia kłaść misia spać. Polecam na prezent !Warto !
Córeczka ma 2 latka i uwielbia bawić się książeczką. Jej ukochana strona to ta z pacynkami na farmie. Wspólnie uwielbiamy wymyślać przedstawienia. Bardzo ładnie uszyte . Prezent na lata. Wartościowy.
Nic tak nie zajmuje syna, jak nauka kształtów i kolorów. Cały czas się nimi bawi, a ja -mam zas dla siebie ;)Polecam -warto ! Pięknie uszyte. Trwałe, na lata.
Moje Trojaczki dostały książeczkę na roczek i cały czas się nią bawią. Wspólnie się dzielą i przyklejają elementy.  Świetne do zajęć logopedycznych i ćwiczenia motoryki małej (nasz fizjoterapeuta nam polecił taką książkę i nie zawiedliśmy się! jest naprawdę świetna ! Uczy i bawi. Polecam.
Jeśli chcesz kupić coś edukacyjnego, wykonanego z pasją i tak wartościowego- polecam tę książkę. Cena adekwatna do jakości wykonania. Preent na lata. Córka ma 2,5 roku i cały czas się nią bawi, a starszy brat , mimo,że ma 4 lata, też chętnię po nią sięga.
Ksiazeczka jest super! moge tylko polecic!! Malemu sie bardzo wszystko spodobalo, wyciaga zwierzadka i sie nimi bawi - a ten mis to hit! w dodatku uwielbia odrywac te figurki na rzepy, polecam!
Ja jestem po wrazeniem wykonania a corka pod wrazeniem wsystkiego :) ma niecale 21mc i jest wpatrzona w ksiazke jak w obrazek :)
Trochę szorstki materiał w niektórych miejscach jak dla rocznego dziecka. Słaba kolorystyka
Customers who bought this product also purchased...