Leading producer of sensory books in Poland presents:
Queit Book sensory book for boys 3+
For whom?
Sensory book for boys - from 3 to 6 years
Benefits
Playful learning: trains the child in various skills. Each page provides new, creative tasks. Trains dexterity and logical thinking. It influences creativity and develops the imagination of a child.
Product description
The boy will be happy to learn about various tools, play a little DIY.
Then he will go on a journey in cars and explore the street, roundabout, and refuel. It will be an adventurous trip.
Then a more difficult task: learning how to tie shoes and playing interweaving - motor exercises.
to dress up a little boy. From a large wardrobe, he will choose different clothes to match the clothes properly.
Lots of fun guaranteed!
✔ Hand-made manipulation book - handmade.
✔ Perfect for a gift for a 3, 4 and 5 year old.
✔ A sensory book created in accordance with the Montessori educational method.
Additional information
Full product video: watch youtube
4-step guide to sensory books:
Step 1 - Get to know the sensory book better: TOP 5 facts
Step 2 - Complete guide to the benefits of Quiet Books
Step 3 - Find out is the sensory-book for you (QUIZ)
Step 4 - 7 reasons to choose TimoSimo
Properties
Dimensions: length 30cm x width 30cm
Number of pages: 5 (+ cover)
Material composition: cotton and felt
Cleaning: gentle hand wash or machine wash 30st without spinning
All materials used are of the highest quality and have the necessary certificates.
Handmade product - the colors of the elements may slightly differ from the one presented in the photo.
The book is not suitable for children under 3 years of age.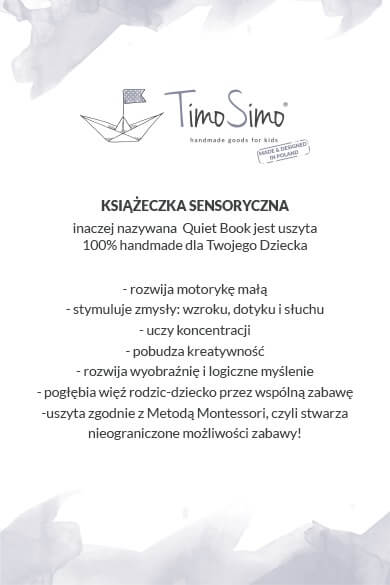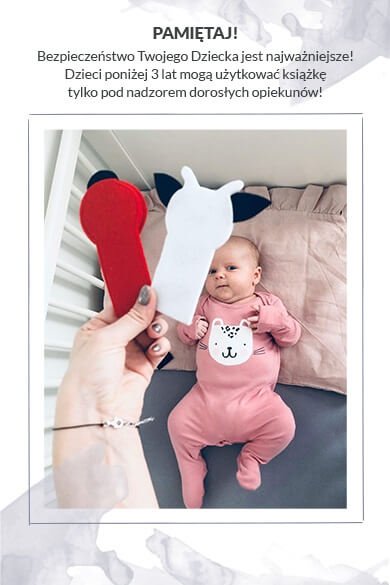 Write a review
Synek uczy się wiązać bucki dzięki tej książeczce :), pomysłowy prezent. polecam.
Mój 4 letni synek najbardziej lubi bawić się narzędziami i autkami. Myślę, że wkrótce zainteresuje się bucikami - w końcu musimy nauczyć się je wiązać.
Tymek cały czas przebiera chłopczyka i wybiera mu nowe ubranka. Bardzo pomysłowa książeczka do nauki i zabawy. Pięknie uszyta. Zdecydowanie polecam.
Nauka i zabawa w 1 ! Brawo TimoSimo ! Świetny pomysł na ręcznie uszyty  prezent.
Customers who bought this product also purchased...