TOP 5 facts about quiet books
TOP 5 facts about quiet books, or everything you need to know about quiet books
---
This is a book? Is it a toy? No, it's a quiet BOOK !
We want our client to be a conscious parent and make decisions not based on emotional impulse, but based on rational premises. We are parents ourselves and we know how easy it is to make a wrong purchase decision, which is why we say: facts, facts and facts again.
We have extensive experience in creating handmade products for children, especially in sewing quiet books, so we feel obliged to provide you with a portion of knowledge about them. This is just what we know best. We present you 5 facts about quiet books, enjoy!
1. WHAT IS IT
Quiet books are hand-sewn material books, designed to help young children learn and practice new skills.
Quiet books allow your child to stay longer with clever play in silence and concentration, therefore they are called quiet books .
A similar role to books is played by quiet mats , which are larger when unfolded - children can lie down on them and play freely.
After folding, the mats are just as handy like our books - you can easily take them with you on a journey.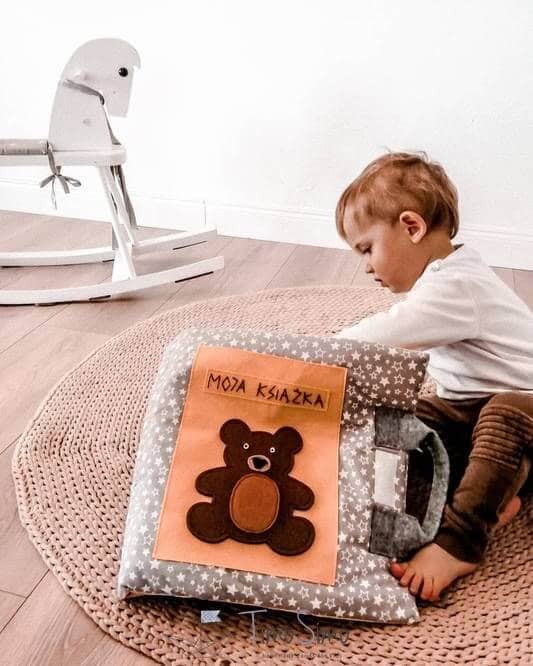 ---
2. For whom?
Books and mats are dedicated to children of different ages, they offer different levels of complexity of tasks and types of skills practiced.
They are recommended for:
① babies from the first days of life - the wealth of contrasting elements to develop the child's senses, makes them ideal books for babies
② 1-year-olds and 2-year-olds - development of first skills
③ preschool children - education through play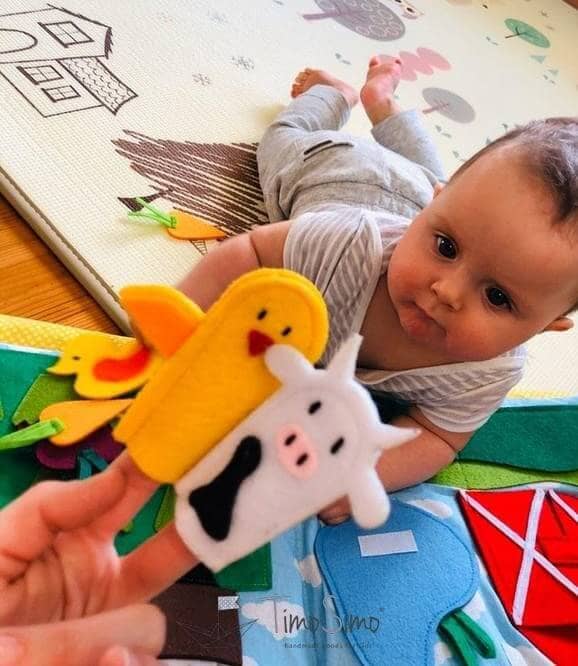 ---
3. WHAT'S INSIDE
Appropriate use of elements such as:
① colors (contrasting for babies: white, black, red, hence another name: contrasting book for babies )
② shapes
③ geometric shapes
④ different textures of fabrics
make each page of the manipulation book provide the child with different stimuli, stimulating different areas of the brain.
Some of the skills practiced are:
① interlacing
② independently dressing and undressing the doll / boy
③ buttoning the buttons
④ brushing teeth hippie
⑤ learning to bind shoes
⑥ first puzzle
⑦ learning the clock
⑧ learning the alphabet
⑨ math operations
Conventional tasks are often cleverly integrated into familiar play scenarios that children love:
① playing the kitchen, learning about different dishes, learning to use cutlery
② playing DIY, getting to know tools
③ playing with cars around the city streets, creating traffic situations
④ playing animals on the farm, puppet theater
⑤ put the teddy bear / doll to sleep, read to him / her before going to sleep
⑥ bath and toilet in the bathroom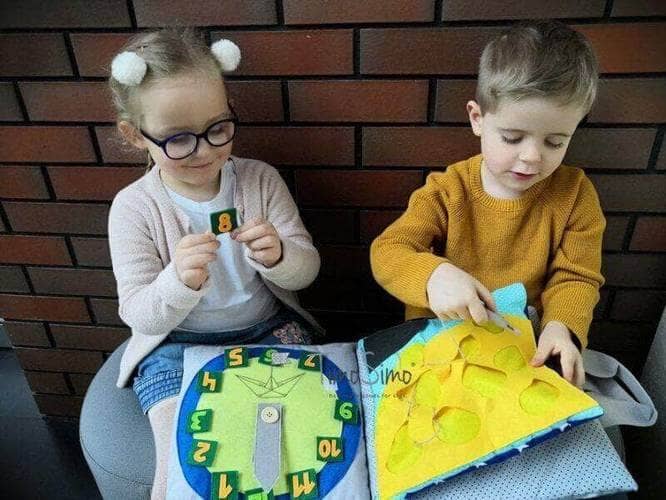 ---
4. WHAT BENEFITS
In the times of Asian mass production, our children have a lot of different types of toys. We are bombarded with ads, news and promotions on all sides.
It is impossible to buy a toy quickly and cheaply. It is becoming more and more difficult for us to make an informed choice based on knowledge rather than emotions. Less and less often our child receives a valuable gift that gives not only the joy of play but also mental and physical development.
How many things have we already bought, which our child got bored after 20 minutes of use. How much ended up in the garbage can after a short time, because the quality of workmanship left a lot to be desired.
A quiet book is a valuable gift chosen by conscious parents for whom something more matters.
Only a quiet book is able to combine so many advantages:
① to entertain - has many elements that draw the child's attention, but not intrusive and loud. Perfect when we need to take care of our home or ourselves :)
② develops on many levels, stimulates the senses of touch, sight and hearing. Support for the natural development of a child.
③ teaches - our child's first aid. Develops practical skills useful in later life.
④ calms down - effectively focuses the child's attention for a longer period of time, which is not easy in today's busy times. It calms down when the child is aroused, great "bedtime"
⑤ integrates - ideal for spending valuable family time together
⑥ therapeutic help - in the case of a deficit in the child's development, for example fine motor skills - an ideal aid for exercise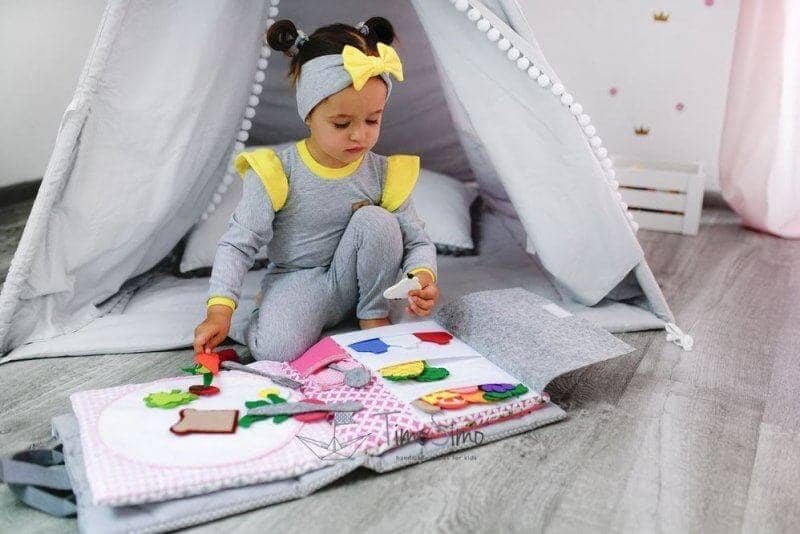 ---
5. ADVANTAGE CONTINUED
The most important benefits provided by the book and the quiet mat:
① it develops fine motor skills, exercises dexterity
② stimulates the senses: sight, touch and hearing
③ teaches concentration
④ stimulates creativity
⑤ develops imagination and logical thinking
⑥ great montessori help, creates unlimited possibilities for play
⑦ deepens the parent-child bond through smart play together
quiet books are the perfect gift for: baby shower, birth, baptism, birthdays.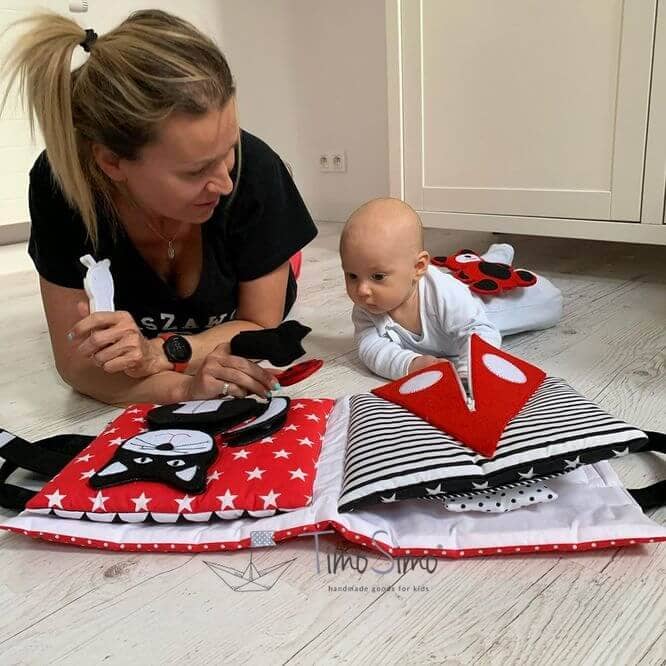 P.S. If you lack any information or you just have doubts, write to us at contact@timosimo.pl. Maybe our guide should have 6 points instead of 5 and you will help us expand it :)