A leading producer of sensory books in Poland presents:
Mini 0+ sensory book for babies
For whom?
Mini 0+ sensory book was designed for babies from the first days of life.
Benefits
✔ Made in the form of a rustling accordion, it will be perfect for a crib or a baby mat.
✔ The book, thanks to its contrasting colors, has a positive effect on the development of the baby's eyesight, rustling and sound elements - on the sense of hearing, and various textures of fabrics - on the development of touch.
Product description
Large, large Velcro elements will be very appealing to the child. A heart, a kitten with a rattle inside, a teddy bear with a pipe. and a safe mirror (made of plastic) - will make the baby happy moments.
The book will be perfect for the first year of a child's life, and even longer - a sitting and crawling child will be happy to tear off and attach elements thanks to which it will practice fine motor skills (hand).
Thanks to its dimensions, the book will be perfect for trips or car journeys.
✔ Made in accordance with the Montessori method, which means unlimited play possibilities.
✔ Quiet book mini 0+ is an excellent set with our 0+ sensory mat. A great gift for the birth of a child or a baby shower. Mandatory element of the newborn's layette.
Additional information
Full video presentation of the product: see on youtube
4-step guide to sensory books:
Step 1 - Get to know the sensory book better: TOP 5 facts
Step 2 - complete guide to the benefits of Quiet Books
Step 3 - Find out is the sensory-book for you (QUIZ)
Step 4 - 7 reasons to choose TimoSimo
Properties
Dimensions: 16x16cm (total when unfolded: length 64cm x width 16cm)
Number of pages: 4 (+ cover)
Material composition: cotton and felt
Cleaning: gentle hand washing or washing in a washing machine 30 degrees without spinning
All materials used are of the highest quality and have the necessary certificates.
Handmade product - the colors of the elements may slightly differ from those presented in the photo.
NOTE! The product may be used by a child ONLY in the presence of a parent!
Remember, safety Your child is the most important!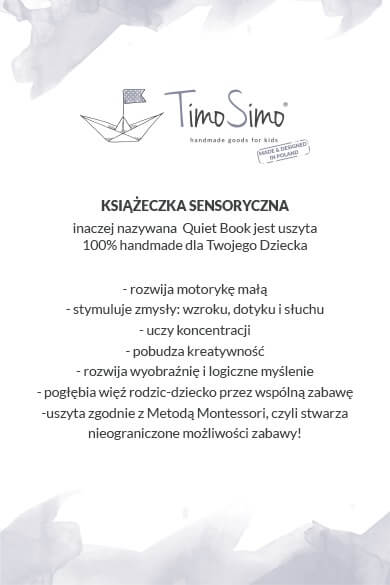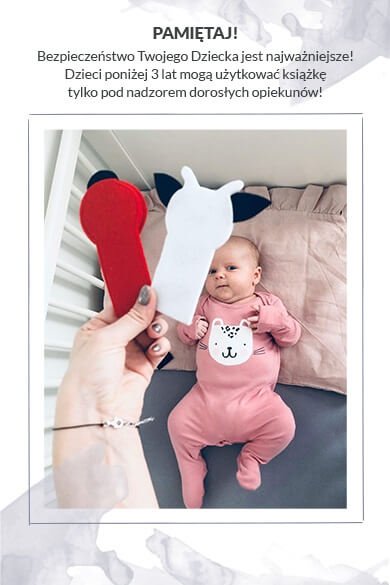 Customers who bought this product also purchased...